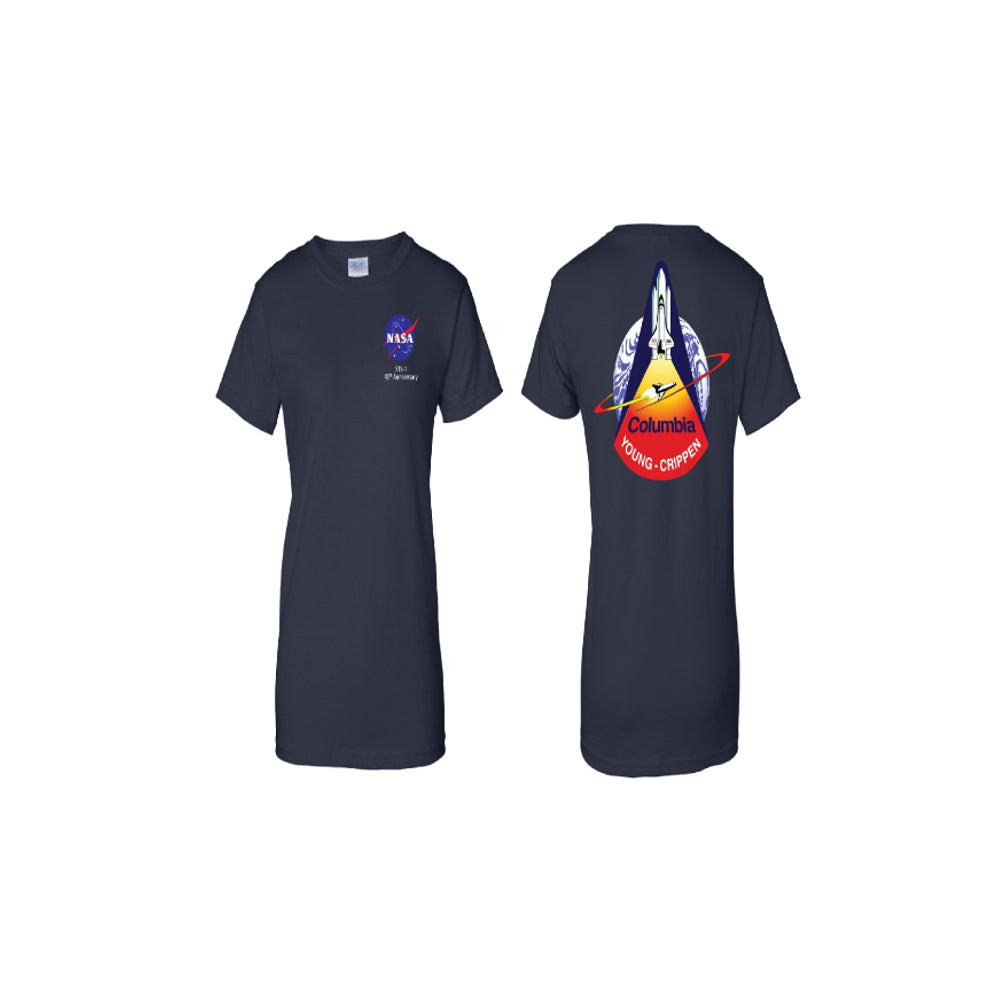 Ladies STS- 1 40th Anniversary Tshirt
Ladies STS-1 40th Anniversary Tshirt
 The Space Shuttle Columbia began a new era of human spaceflight when STS-1 lifted off from NASA's Kennedy Space Center in Florida on April 12, 1981, for the inaugural flight of the nation's Space Shuttle Program. 
Aboard the spacecraft were commander John W. Young and pilot Bob Crippen. The flight was a test mission and the first time a shuttle was flown to space. Columbia lifted off at 7 a.m. from Launch Pad 39A and was NASA's first crewed mission since the Apollo-Soyuz Test Project in 1975. The launch occurred 20 years to the day after the first human launch when cosmonaut Yuri Gagarin orbited Earth in the Vostok 1 capsule on April 12, 1961. Colombia concluded STS-1 on April 14, 1981, with a touchdown at Edwards Air Force Base, California, after a 54-hour mission.
Between the first launch in 1981 and the final landing on July 21, 2011, NASA's space shuttle fleet – Columbia, Challenger, Discovery, Atlantis, and Endeavour – flew 135 missions, helped construct the International Space Station, and inspired generations.
As humanity's first reusable spacecraft, the space shuttle pushed the bounds of discovery ever farther, requiring not only advanced technologies but the tremendous effort of a vast workforce.
Shipping:
Free shipping (orders over $50) in the United States is shipped via First Class Mail 3-6 business days.*
Priority Mail is available for an extra charge. Delivery 2-6 business days*
Priority Express is also available for an extra charge. Delivery 1-3 business days.

Learn More

In-store Pickup:
We offer in-store & curbside pickup options for JSC Team members with onsite access to JSC.